We are our baby's first dwelling. Fully furnished, fully attached and fully content.
The DockATot reunites what birth naturally separates.
By reinventing a womblike environment, the multi award-winning DockATot offers a most gentle womb-to-world transition to soothe your precious baby.
The DockATot looks deceptively simple but answers many pressing issues for new parents. The multi-functional design offers a safe space for your baby to rest and play, a portable space for family adventures and a cozy micro-climate for baby massages or nappy changes.
With thousands of verified 5-star reviews, the Swedish-designed DockATot is a global parenting must-have and invaluable sleep cue.
So rest easy… the DockATot will help settle your baby hands-free!
THE multi-FUNCTIONAL AND MULTI-CUTE BENEFITS OF DOCKATOT
Mama Life Balance
Enjoy feeling calm and content by keeping up to date with life admin while your baby snuggles in their DockATot. Your baby will feel safe and settled by your closeness, giving you time and space to balance your mama-world. DockATot is the next best thing to having your baby in your arms!
"Best Purchase! Coming back from hospital I felt like a truck had hit me...the DockATot gives me the freedom to take baby anywhere around the house or out with me." - Yasmina E.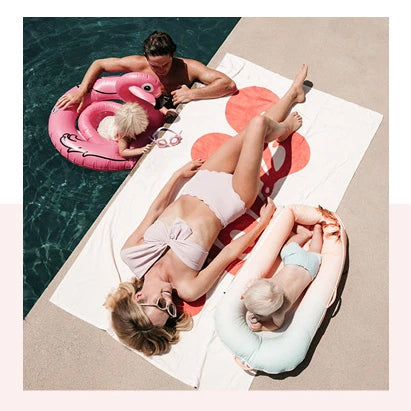 Places You'll Go
Reassure your baby with the constant familiarity of the DockATot wherever your family roams. Whether it's a day trip to grandma's or a longer overseas adventure, DockATot is your perfect lightweight on-the-go lounger providing your baby the rest they need wherever life takes you.
"DockATot is a life saver. We use it every single day. Perfect for transporting around the house and for travelling. Highly recommend!" - Maxine S.
Mama Self Care
If you are only working out during baby's nap time you may go for days without enjoying the mood-boosting benefits of exercise. DockATot will keep your baby happily snuggled giving you the chance to work on your core whether baby is asleep or awake. Investing in self care will help give you confidence as you navigate motherhood.
"What do people do without a DockATot?! It's by far my favourite baby essential. I'd be lost without it!" - Sarah's Day, fitness mama
Bonding Time
Loving touch eases the transition from womb to world and creates strong bonds between you and your baby. Lightweight and portable, keep your baby close in the DockATot and develop life-lasting bonds wherever you go.
"My lifesaver post C-section...the DockATot means I can have him right next to me all the time and not move around too much." - Megan L.
Tear-Free Tummy Time
It's important for babies to spend time on their tummy to build upper body strength. Stronger muscle tone will help your baby meet their milestones - roll, crawl, sit and walk. The DockATot's superior padding makes it an ideal spot for supervised tummy time - tear free!
"DockATot has been a game-changer...we use it to keep baby close to us when napping and having a kick during tummy time." - Rachel M.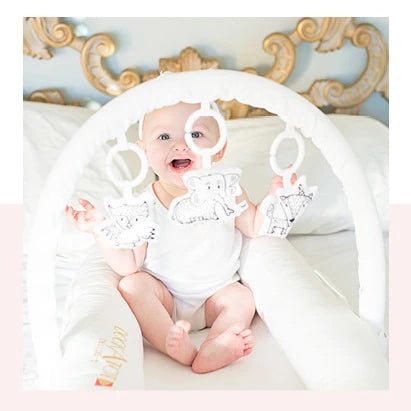 Play Time
Play is your baby's gateway to developing curiosity and exploring the world. Convert your DockATot into an instant play gym with our attachable Toy Arches. Your baby will love reaching for and playing with the dangly, crinkly toys which will improve muscle tone, encourage fine motor skills and promote sensory development.
"Our baby is very entertained by the toys. Easy to attach and very secure. An added benefit for her motor skill development." - Lindsay R.
Outdoor Family Fun
The DockATot is the perfect place for your baby to lounge-on-the-go. Family outings are a breeze with our Cabana Kits, designed to protect your baby with 50+ SPF fabric, retractable mozzie net and waterproof base. From beach days to the part picnics, enjoy the outdoors with your baby. (Compatible with Deluxe DockATots)
"We wouldn't enjoy family time out on our deck so much without the DocKATot and the Cabana Kit. We really love it and would buy again. Highly recommend!" - Rachel D.
Meeting Siblings
Toddlers get so excited welcoming their new and much-longed-for sibling home. Sometimes their exuberant love can raise our mama eyebrows to pitch point and we lunge in to protect our newborns. The DockATot provides a 'borderline' that toddlers can easily understand, keeping your newborn safe and loved from a distance.
"Best buy! My son has used it from the first day we got home. We love it.. definitely a must have!" - Stephanie C.
Big Bed Fun Transitioning
Moving your toddler from her cot to a new big-kid bed can be an exciting milestone... but may spin them in the circles! The Grand DockATot eases the transition with its built-in bumpers, creating a snug sense of security and helps prevent your toddler rolling out.
"We love our Dockatot Grand, but more importantly our son loves it! We use it for every nap-time and as we transition him to a toddler bed...so glad we made the investment into our sleep and comfort!" - Lily Z.